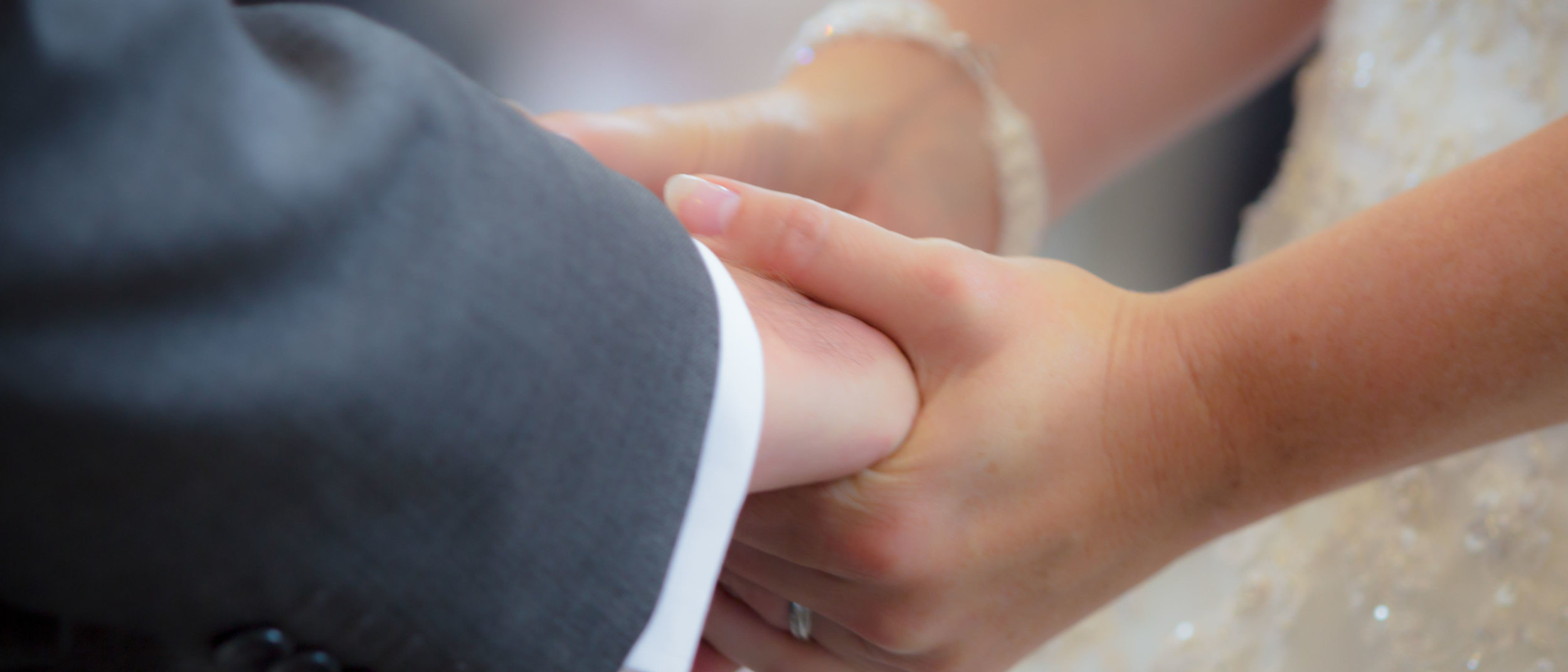 (Our no-obligation consultations are fee and sales free)
Welcome, first off, it would be an honour to photograph your special day. But, let's go slowly. Selecting a photographer isn't something to rush into. After all, your wedding day is one of the most important life events you're going to have. Right next to becoming a parent or realising your dreams.
Because we understand you've likely landed here in the middle of a quest to find the right wedding photographer for you, all the information you need regarding the package we offer is at the top of this page. However, pricing and packages aren't everything. It may seem like it, but not all wedding photographers are the same. That's why, right below the wedding package information there's a section that describes the approach we take to capture your most magical and important day.
Please, if you have any further questions, then contact us to arrange a free, no-obligation consultation.
Our wedding package puts You at the heart of the conversation
Recognising conversation is the key element to ensure excellent customer service and satisfaction, we have designed our wedding package to provide you with everything we think you should expect from a professional wedding photographer, all delivered with reassuring high quality. In providing this initial peace of mind we can quickly focus of the real conversations needed to uncover the bride and grooms true wants and needs to ensure their wedding photography is something both they, and their family, can cherish.
It's very difficult (if not impossible) to do this without meeting to discuss your wedding, the style of photography you prefer, and the types of additional products and services you require. Our experience has shown that this initial conversation is key. This is why we offer a fee-free, no obligation consultation. During this consultation we will discuss all aspects of your wedding to enable us to offer the right additional items to build the perfect overall package for you.
You can rest assured that our consultations are not a hard-sell sales meeting. To offer this peace of mind we will not ask for, or accept, any payment during the consultation. Understanding you may wish to talk to other wedding photographers to compare packages and pricing, and (most importantly for you, the happy couple) make sure you select a wedding photographer that you are happy to work with, we will reserve the date of your wedding in our diary for a period of 14 days following our consultation.
The Digital Wedding Package
One core package. One simple price. Full transparency.
£895
Why one package? For simplicity. There are no hidden costs or charges. You agree exactly what's added to this base package - if anything at all. We suggest you have a selection of your favourite pictures from the day, printed and framed as well as having at least one wedding album. Of course, we can arrange for these items to be printed using our preferred professional print shop, however we understand that some couples will enjoy using their own creativity in designing and printing these items themselves.
This is why we don't offer bronze, silver, gold, diamond or any such sliding scale packages that you may have seen elsewhere; after all, the inclusion of additional items to the base package is a simple conversation we can have together. You may have some new ideas that you wish to discuss.
Additionally packages tend to limit the time period the wedding photographer attends your wedding as well as limiting the number of images provided.
In all honesty, no matter how long we attend your wedding day, we can only shoot one wedding a day. Therefore, if you book us we commit to offering you a full day of 10 hours. From experience, this usually means we are with the bride to take pictures during the bridal preparation from 11am right through to the first dance. We then leave around 9pm when the lights go up and the evening buffet opens. We want to tell the full story of your wedding day and we can only do this if we spend the day in your company.
Included in the package
We will ask for a 25% deposit to confirm and hold your booking. However, as well as guaranteeing the booking, this payment entitles the you to a free engagement/couples lifestyle photo shoot. Sorry, we do restrict this to the couple only (so no mum, dad or uni friends), but it does include any children and/or pets you may have. This free two hour photo-session is in a location of your choice.
This free photo shoot serves two purposes, we start to work together before your wedding day as it's important to build our rapport also, if you happen to have children, then they will start to grow accustomed to standing in front of a camera - even the most confident kids can become self-conscious. Finally, you should work with your photographer prior to your wedding day. You'll have a make-up trial , you'll have a hair trial, you'll have a dress rehearsal, and you'll meet with you wedding coordinator a lot. Think of this free session as your photography trial.
Due to the nature of this free session, this is a limited package where we will provide up to eight free digital files and one 8 x 10 inch fine art print.
your wedding Day and Beyond
We've already mentioned our 10hr commitment to you to record the story of your wedding day as it unfolds. On top of this commitment we also guarantee a minimum of 200 unique digital images and provide these in the following 4 sets:
A set of high resolution digital colour images processed ready for printing
A set of low resolution digital colour images processed ready for Social Media
A set of high resolution digital black and white images processed ready for printing
A set of low resolution digital black and white images processed ready for Social Media
There is no upper limit to the number of digital images provided to the happy couple.
After the wedding we process your images and upload all your digital files to our client gallery space for you to peruse at your leisure. You can send links to your gallery to friends and family. From your gallery you can order prints provided by our partner professional print shop that include lustre, gloss, canvas and metallic prints at exceptional value and extremely high quality.
From the images provided we will create approximately a 10 minute Photofilm of your day. You can see an example photofilm if you scroll down to the bottom of the page.
Finally, we take up to 100 images and create of mobile app so you can carry and access your own personal gallery on your phone and tablet and any time you wish. We have prepared a sample app composed of previous weddings ready for you to download and view. You can request a download link to our sample app via our contacts page here.
That's our base wedding package. We like to keep it simple and transparent so you know exactly what you will receive from us. We have designed this digital package to provide everything we believe a professional wedding photographer should include for you, the happy couple.
But, that's not quite it, we have one more offer.
Charitable Thoughts
This offer is open to all couples who have purchased our full Wedding Package. However, for this we need the brides wholehearted commitment.
We likes to support local charities as much as possible. Wedding photography is often seen as a cash cow. However, cameras and technology mean wedding photography is a costly business. A lot of photographers are racing each other to the bottom in providing less time with the couple and reducing the quality of photographs taken. With a core value that we want to provide you with a first class service, with high quality images that tell the full story of your day, there isn't room to reduce our bottom line and offer rates below £800 for our base package. If we did, it would only impact the quality of our service when the bride and groom are looking for perfection on their wedding day.
Saying that, we can offer up our time to help charitable concerns. This is where we would look to the bride's full and wholehearted commitment to obtain an additional photo session at no extra cost because, once the bride returns from her honeymoon, when she has no further use for her wedding dress, except to put it in a box and store it in the attic, she must be willing to hand over her wedding dress and never see it again. A bit of a shock, we know.
Is this a big ask?
It depends, we want to support a UK charity called Cherished Gowns and would like you to do the same.
We know your wedding is a happy day and you don't want to think about sad times but, Cherished Gowns can take a wedding dress and do wonderful things with it. Every year nearly 4,000 babies are stillborn or die shortly after birth. You've most probably never thought of where such small funeral gowns, booties and hats come from? Well, it just so happens there's an army of volunteers out there that turn donated wedding dresses into fantastic gowns so families can dress their small loved ones and say goodbye with the respect their babies deserve. This is a small extract from the Cherished Gowns website:
It's such a good cause that we want to support them, but we can't do it without you. We do have to say that Andrew Hyde Photography is not affiliated with Cherished Gowns UK in any way.
There's a trend in wedding photography called Trash the Dress, Fearless Bridal, or Rock the Frock. If the bride agrees to donate her dress then we will reciprocate your donation in providing a free "Trash the Dress" photo-shoot. There's only one condition, whatever you plan to do to the dress must be undo-able. That simply means we can wash it and return it to its former glory before passing it on.
A wedding dress worn out of context, in unusual surroundings, makes a great visual image that has very high impact. You could wear your wedding dress on a beach, playing a sport, walking through woods or a field, climbing over rocks, doing something manual like cutting the grass, a food fight, a paint fight (water soluble of course), running on a track, laying down in water (safely as wedding dresses weigh a lot wet), in a derelict building, pushing a trolley in a supermarket. The list goes on and is only limited by your imagination.
We would love to support this charity but, for this free photo-session the bride must support them too.
Again, due to the nature of this free session, this is a limited package where we will provide up to eight free digital files and one 8 x 10 inch fine art print.
Our Approach
When looking for a wedding photographer you should start with a couple of questions. I'll roll them into one because, choosing the wrong photographer can not only ruin your wedding day but also every memory of your day forever more. This may mean you decide that my services aren't for you and, if that's the case, then that's a successful service in itself. So, here goes, a couple of things to ask yourself...
Could I, should I photograph your wedding?
Images really are more powerful than words so, I hope the images you find here and on the rest of my site stand on their own and speak for themselves in answering the 'Could I?' question. And, as we're talking about weddings, here's a few wedding photographs I've taken in the past.
The 'Should I photograph your wedding?' question is a little more complex as it very much depends on your own truthful answer to this question...
What style of wedding photographer are you looking for?
If, right at this moment, you're thinking to yourself 'There are different styles of wedding photographer?' Then, don't worry, it may help if I talk a bit about my very own wedding day...
THE VERY MEMORABLE WEDDING PHOTOGRAPHER
When I think back to my wedding day, the wedding photographer was one of the stand-out memories of the day. He was funny, he was engaging, he took control, he got every one standing where they should, he got groups of people together when all they wanted to do was get to the bar and start the celebrations, he knew his trade, he was professional, he took great pictures...and he took up two valuable hours of our day. We got loads of wedding proofs of people standing in groups. We selected a handful of images to add to an album. We got an album of people stood in groups. We put the album in a cupboard. Every now and again (rarely) we dust the album down and take a look at the pictures. Yep, I remember the wedding photographer. Did I say, he took up two valuable hours of our day.
It's not that he was a bad photographer. He was excellent. He was a professional photographer. He did everything we expected...and that's it. We hired the stereotypical wedding photographer, one that fitted the expectations of the time.
The FORGETTABLE wedding photographer
When your wedding day is over my job is done if you forget me as I leave you with a beautiful record that's the story of your wedding day. I very much believe you should remember the photographs and not the photographer.
I don't want you to remember my guest herding skills, or stand-up funnies I have to routinely shoot off just to get something other than a cardboard smile from your guests. We've all stood in those group shots, not knowing what to do with our hands, looking down the dark circle of the camera lens and wondering if it's a natural smile on our faces or something akin to a police mug shot.
I want you to reclaim those lost two hours from my wedding day on my behalf. Use them to live in the moment...your moment...and let me capture the true emotions and feelings as you share one of the best days of your life with family and friends.
Does this style of photography have a name?
Yes, yes it does...
The Story Telling Wedding Photographer
My style of photography goes by names such as Documentary, Candid and Photojournalist Wedding Photography. But, for me, I want to provide you with a collection of beautiful and memorable pictures that tell the story of your day. Simply put, I try to keep out of your way by remaining discrete and unobtrusive. I'm not going to order you around or herd groups of people. That doesn't mean I won't oblige if people grab me and ask for pictures - I'm not promoting the idea of some ninja photographer that must remain in the shadows. But, it's good if I'm seen as little more than another guest at the wedding capturing the whole story of your wedding day from the morning preparations to the dances in the night.
I hope you're still interested in this style of photography for your wedding. If so, here's a photofilm from a wedding shoot. I hope you enjoy. Please get in touch if you would like to know more.
If you've got this far then thank you for your attention. We hope you've found all this honest, open but, most of all, informative. We really would like to hear from you and talk wedding photography, to understand what you are looking for and what you are expecting. In light of this, please do arrange to book a no fee free consultation without obligation by clicking the button below. I hope to hear from you soon.
Regards
Andrew Hyde Photography